6 Ways You Can Rock Ethnic Co-Ord Sets As Partywear
Posted by TEAM JANNAT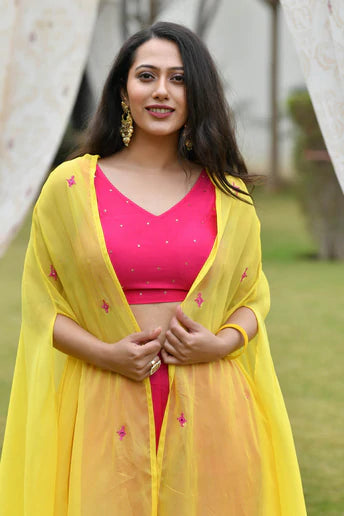 We get it, it's a party on the weekend, and you can't let go of your unique design choices when it comes to what you wear. You don't want to conform to the same sequins and silk tops and we respect that.
But what if we could find a way for you to fit your favourite flowing ethnic fits and turn them into party stunners?
Hard to believe? Here are 6 ways you could shine in a crowd and still maintain your identity!
Indo Western Dresses? Sneakers are out.
A fantastic way to begin would be to ditch the classic old sneakers for a cool matching set of loafers. Your footwear says a lot about the effort you put into dressing for an occasion and a nice pair of loafers means that you aren't trying to hard and just looking for a fun evening.
Additionally, another spice up for fusion co-ord sets would be to go for would be your trusty pair of heels! Heels go great with fusion wear and almost anything and barring any tacky colours and lack of practice would be great for lounging around in.
Having Difficulty Making Your Fit Stand Out? Say Hi To Statement Pieces
If your fit is a little too laid back and subtle, but you still don't want it to be boring, we've got just the fix for that. 
Jewellery is always a statement no matter where and in what style it is worn. Regardless of whether you have a shiny new chain on your purse, or a set of looping statement earrings, you are bound to turn eyes away from your chill outfit. Jewellery adds that little bit of flair to any outfit as well, making your whole look come together fantastically.
As long as you don't stray toward the crazy side of jewellery, you can be a little adventurous with your choices.
A Good Pair Of Jeans Are Perfect For Anything
Exactly. No matter the occasion, theme, style, crowd, or setting, you can never go wrong with a pair of jeans. Granted, it takes away a little from the 100% ethnic wear, but jeans pair well with a lot of styles of clothing, and are universally praised.
Even if you go for something slightly longer than usual, jeans can compliment and draw attention to whatever else you are wearing because they are so versatile and available with so many different options.
Bobs Are Out, Ponies Are In
With a lot of the attention most probably falling on the ultra-casual and ethnic outfit you are going for, it is easy to forget that other aspects of the look matter immensely as well. After the fit and the shoes, you can find other ways to stand out from the crowd while trying as little as possible.
And although more casual hairstyles like a lazy bun or mom's fraying half ponytail are simply out of the question, a properly tied ponytail or just straight and smooth long hair will work wonders.
Additionally, if you can rock a risky undercut like nobody's business, you have already won the crowd over.
Conclusion
Going ethnic does not mean you are limited to any given style or design template. There are a lot of ways to play around with ethnic fashion and it all hinges on how you can make it work. Good luck at the party!
Collection 2019
Sale 70% Off
Title for image