6 Trendy Co-Ord Sets You Need to Buy Now
Posted by TEAM JANNAT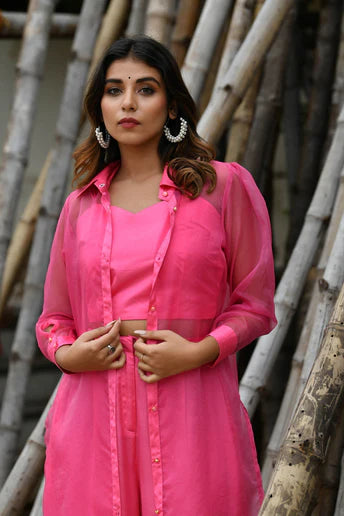 Co-ord sets are an absolute must-have for your closet if you've ever desired to look rich and stay on top of your style game. Since the pieces match, you look put together without even trying, and all you need to do to ramp up the look are a few important accessories. Sincerely, the idea of shoving our bodies into pants in the height of summer makes us itch. Additionally, co-ord sets in soft cotton, cheery hues, and designs are the ideal way to escape the oppressive heat. You can enjoy comfort without ever having to consider giving up flair.
Check out our selection if you want to buy some co-ord sets for your wardrobe.
The floral print gives a tropical vibe to this organza co-ord set. Made in summer colors, this co-ord set is the perfect pick for your leisure wear, homeware, or a casual day outing. This is intricately hand-block printed in all the lovely colors.  vibrant but still elegant Our lime flora-striped cotton gathered front loop button closure shirt has off-white cotton lace on the sides and a tie string at the waist with off-white crochet, Shell & thread created tassels. paired with incredibly comfortable paneled and flared pants.
Embroidery Co-Ord sets
To look stunning at your family gathering and wedding event. The greatest option is embroidered co-ord outfits if you want to stand out and seem different from others. A solid Chinon flared palazzo with a handcrafted tasseled string on the side is worn with a Chinon gathered peplum top that has pleated curved hem sleeves and embroidery on the front body and sleeves. For that cozy yet exotic style, this outfit is completely lined with cotton.
Sleeveless top made of upada silk with loops at the waist, potli buttons on the back, and machine embroidery on the front. matched with palazzos with flared panels.
White rayon back smocked peplum top featuring mirror work embroidery. Paired with classic high waist pants which have dotted embroidery on the bottom.
Printed Co-ord sets
This is the brand for you if you're seeking vivid prints with a special tale behind each design that was brought to life through hand block printing. Ajrakh top with multicolored block printing and a gathered peplum style. paired with ajrakh-printed cotton bottom pants with frills.
I am in love with this Aaheli Akiha print co-ord set. Wide-leg slacks and a shirt with a tie-front can be the perfect attire for a sophisticated night out. You may easily dress up this outfit because it's black and stylish without being too hot or uncomfortable.
Top skirt co-ord set dresses
A skirt and top pair is typically the first thing that comes to mind while thinking about choosing a co-ord attire, but there are various styles to explore. A front-side slit, the multicolored modal satin printed skirt is worn with a white off-the-shoulder crop top with tasseled string. Your entire day will be spent at work or in an informal gathering with friends.
Side-slit skirt in black poly twill with an adjustable strap crop top. Crop top with a cowrie shell dangling from the waist and a smocked back. paired with a long shoulder cover in modal satin printed-up.
All black cord sets
Made in summer colors, this co-ord set is the perfect pick for your leisure wear, homeware, or a casual day outing. For the best results, pair a modern-cut black shirt with excellent slacks or a skirt. Black shirts are always stylish and in style. Black pants might be a no-brainer choice for a sophisticated and alluring appearance because of their contemporary straight-cut shape, high belt trimming, and front and back placket pocket components.
White co-ord sets
Choosing white clothing for the summer is like asking someone whether they know the answer to 2+2—of course, light white clothing is the solution to all of your issues. The longline jacket in this cacti-adorned ensemble has kaftan-style sleeves to allow for easy breathing. matching loose pants that you can wear with a crop top or a tan.
Modify your jewellery, wear sneakers to work, heels to the party, and change the co-ords' style to go from morning to evening. Co-ords and contemporary clothing items can occasionally be mixed and matched to produce a distinctive look.
Collection 2019
Sale 70% Off
Title for image