Give Your Summer Style An Upgrade With These Ethnic Dresses
Posted by TEAM JANNAT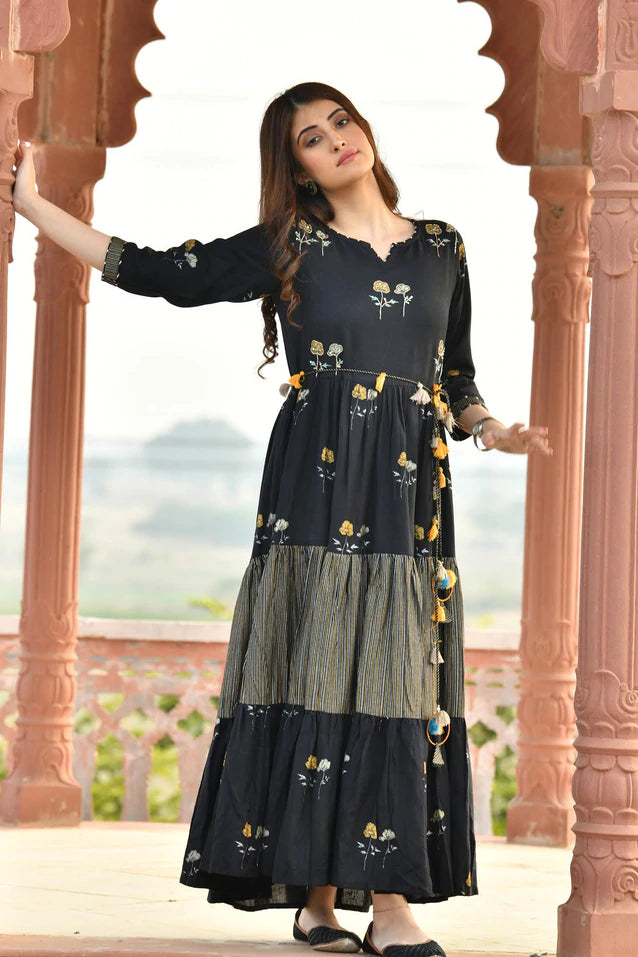 Summer's here. And it brings with it a reason to change your wardrobe choices into more comfortable, light and cool clothes that step up your style instead of stepping on it. Presenting ethnic casual dresses, a perfect blend between the functional and the traditional.
And this fusion of two styles with differing purposes brings all their best sides together without weighing you down with any of their drawbacks. Let's take a look at the most haute ethnic dresses that you can flaunt with your matching footwear this summer.
MULMUL DRISANA SUNSHINE TOP-DHOTI PANTS & SHRUG SET
With their unobtrusive, flowing pants and slim pom-pom edged style, the Sunshine set will have you show off your effortless eye for fashion, all the while beating the heat.
Along with the chiffon, magnificent Upada silk fabric and sleeveless top, this set is designed to keep you light on your feet without breaking a sweat, literally!
For our second summer recommendation, we have gone with something incredibly simple, chic and low-key. Summer is all about being comfortable, loose-flowing and stylish all at the same time, and nothing embodies this better than the patchwork skirt in this set along with the simple rose garden top.
With the self-effacing round neck design of the top and the light cotton skirt, you can wear this set inside as well as outside, without having to worry about the heat at all.
MULMUL LISHA BLACK EMBROIDERED MAXI DRESS
Maxi dresses are amazingly versatile Want to stay in at home and just be in a pair of PJs watching Netflix? They have got you covered. Want to go outside and enjoy some quality time at the beach? Done. Want protection against the sun while flaunting yourself ever so subtly? Yep.
Designed to be as light as possible while keeping you cool and looking good, the black embroidered maxi dress makes sure that wardrobe malfunctions and continuous maintenance are a thing of the past. The chiffon set is perfect for an outing with the family to a tourist destination or a Netflix session all by yourself.
The benefits of long dresses have been extensively stated and well-documented over the years, but let us give you a recap. Long dresses are much better in the daytime than being bogged down with jeans and tunics, are loose and comfortable to wear, and fit right into the working woman's incredibly busy schedule.
With the soft, breathable rayon, stylish tassels and the flexible waist dori, this printed long dress does all of the above all the while helping you make the statement, "jeans all the time are bland, boring and uncomfortable." Style it with some matching jewellery to complete the look.
MULMUL AADITRI PRINTED DRESS WITH SHORT JACKET
Who doesn't like cute short jackets that allow you to look as far ahead of the curve as possible? Jackets are a significant part of many ethnic outfits and add to the pizzazz of an already established style along with some protection against the heat.
Along with that, the light silk printed and flared sleeveless dress with a round neckline is excellent for layering under outerwear and is breathable enough to be worn indoors by itself. Who doesn't want all of that?
Conclusion
Whatever the occasion might be, there is no reason that summer should force you to dumb down your style. These ethnic dresses allow you to be in line with tradition and fashionably late to dates without having to compromise on either aspect.
Have fun!
Collection 2019
Sale 70% Off
Title for image