Best Organza Sarees for Summer You Should Know
Posted by TEAM JANNAT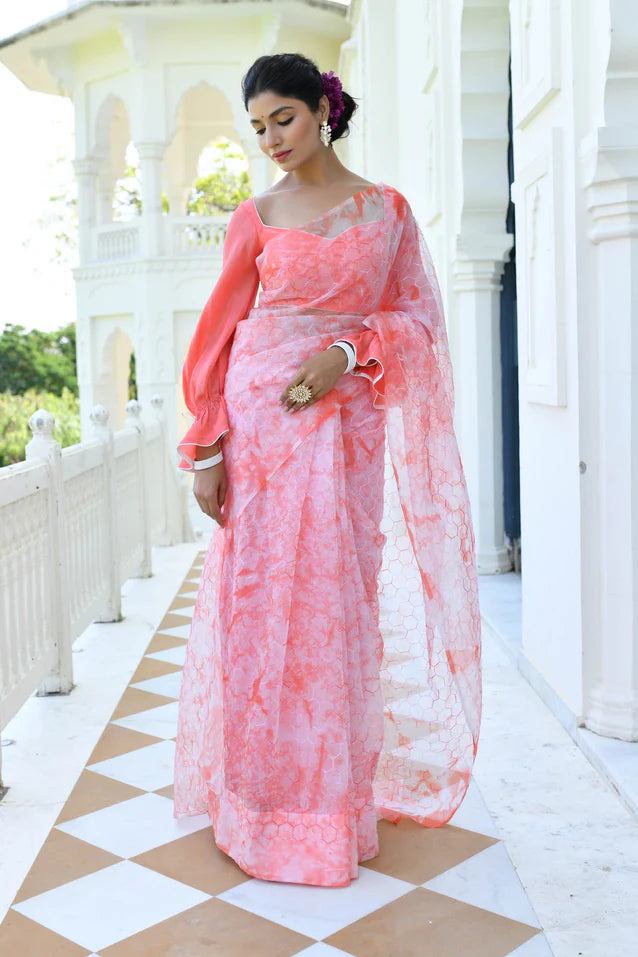 Organza sarees help give your traditional saree a modern update and an extra gorgeous look. These sarees happen to be the perfect attire for a wide array of events and occasions. Organza is a highly opulent fabric possessing a distinctively ethereal texture that helps add a slight sheen to it. The popularity of these organza sarees has immensely increased in recent times, and you can easily buy organza sarees online.
The fabric has become the most sought-after one for weddings, festivities, and a range of other occurring. It is because Organza offers a contemporary look at the age-old attire of sarees. With a pure organza saree, it becomes logical to experiment with layers, contrasting textures and a range of colors. A huge percentage of women opt for a satin petticoat under the Organza saree, which happens to be a style detail. The style detail plays a crucial role in enhancing the sheen of organza sarees.
One of the best things about these sarees is that they are available in a wide range of designs, starting from delicate embellishments to digital prints and a lot more. Moreover, one can easily find several colors as well, thereby making it easier for users to choose the one that best suits their needs. Here is a list of the best Organza sarees for this summer season to make it easier for buyers.
Gorgeous White Organza Saree
The color white is undoubtedly supreme when it comes to Organza sarees. It gives a superiorly glamorous look and is suitable for almost every event or occasion that you can think of. White organza saree is considered the eternal beauty and has the potential to transform the overall look and appearance of the wearers. Most importantly, you can find a range of designs on whites and giving the buyers innumerable choices.
Floral Prints are Superb
Organza sarees featuring floral prints are superb and are very popular among women. The floral prints are usually near the border and the pallu. Paring a floral print Organza saree with a solid colored blouse is bound to attract the attention of almost everyone. If you wish to further elevate your look, you can accessorize with oxidized silver jewellery to bring out that added elegance in the overall attraction.
Black Organza is Evergreen
Black Organza saree is another wonderful option to glam up this summer. The black one will be appropriate for any evening parties, gatherings, or other events. The black color saree gives a killer look that no other color can provide the wearer with. Moreover, if you choose a black organza saree with any bright colored pattern or design, you are all set to be the center of attraction without any doubt.  
Baby Pink Organza is a Huge Attraction
Baby pink Organza saree usually comes in a soft and subtle shade which is a huge attraction among all. The color is appropriate to be worn in small day events as well as gatherings. You can pair it with a contrasting colored blouse to add that extra factor for a wonderful look.
Off White Organza is Elegant
If you plan to wear an elegant look, no other color can match the elegance of an off-white organza saree. The elegance of this saree can be further enhanced by choosing an off-white saree with floral prints. The off-white and floral print combination are deadly, which happens to be a great choice for this summer.
The Organza sarees mentioned above happen to be the most trending in recent times. Owning any one of these will ensure that your style quotient is not hampered at cost. You can browse through a superior collection when you plan to buy organza sarees online. Wearing an Organza saree not only provides you with a glam look but also makes sure that you are the cynosure of the event.
Collection 2019
Sale 70% Off
Title for image