3 Trendy Indo - Western dresses Ideas for Different Occasions
Posted by TEAM JANNAT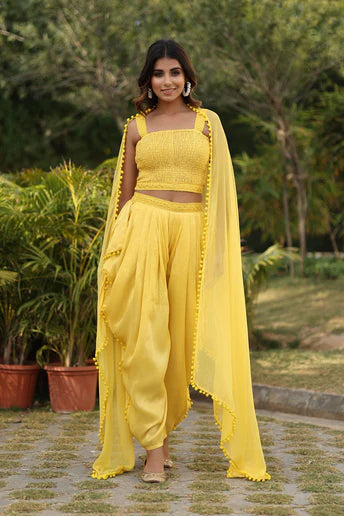 The demographic culture you belong to is greatly reflected in your clothing choices. Indian women are renowned for their sophisticated fusions of western and traditional fashion details and styles. These Indo-Western fashions are not only well-liked in India but also enjoy a large fan base in the west. Nothing beats this style combination, whether it be for business attire or social attire. Indo-western clothing is a fusion of elements from western fashion and Indian customs. These Indo-Western outfits include a fun styling experience that involves mixing and matching accessories from both cultures to create a seductive ensemble.
When it comes to Indo-Western styles, there are countless variations you may try, which makes the idea of selecting an Indo-Western outfit even more exciting! At the same time, it's crucial to play it right. Here is a comprehensive instruction on how to accessorize Indo-Western clothing for various occasions.
How to style various Indo-Western party outfits
Bollywood has always emphasized the various ways to dress non-western, to which we should all pay attention. Be it a ruffled saree from the 1970s, bell bottoms with a short Kurti from the 1980s, or even the red sheer kurta worn by Anushka in "the breakup song" and matched with tough denim. Bollywood fashion has often demonstrated how Indo-western attire can liven up a party. However, when it comes to party clothing, there are two primary categories to pay attention to Indo western party dresses and Indo-western cocktail dresses.
Bring the best of India and the West to the dance floor with Indo-Western party attire!
Indian-Western party attire has long been in the spotlight. To produce the best indo western dresses, take inspiration from the most recent trends and combine them with time-honored traditional clothing. For instance, choose a pair of trendy dhoti pants and match them with a spaghetti top and an ethnically designed blazer. We are confident that you can dance all night long in this cool-looking but enjoyable attire. On the other hand, if you want to show off your love of romanticized styles and gentle flares, choose a flowy-printed skirt and wear it with a crop top. Add a quirky waist belt as the finishing touch to the set.
Shine at every glittering event with these styling tips for Indo-western wedding dresses!
There are many day and night functions that are a part of Indian weddings. Such situations call for Indian-Western Fusion Wedding Dresses. Change up your wardrobe by removing the typical ghagra cholis and adding a touch of western classics. One such perfect example would be vibrant cowl pants with a clean crop top. Pick a long fusion pleated dress with an all-over print for a casual, Indo-Western style. Invest in a beautifully designed sequin jacket palazzo and bandeau set to embrace the rich legacy of Indian clothing and let your inner diva shine. An indo-western look is certain to fill the wedding picture gallery with stylish statement outfits, whether it's for a bridesmaid attire or a Mehendi event.
How to style formal Indo-western attire Great fix for a formal appearance
As we previously noted, Indian ladies are experts at styling Indo-Western attire for every situation or setting. In that situation, how might daily formal clothing be spared from a westernized indo makeover? Without the formal pants and Kurti combo, the daily wear office wardrobe is lacking. On the other hand, the formal Kurti and culottes outfit is quickly replacing the old standby. Additionally, fashion executives and independent contractors frequently experiment with maxi dresses made from traditional handloom fabrics like khadi to make the most of their independence in work attire.
Collection 2019
Sale 70% Off
Title for image